In June of 2018, Blanket the Homeless had been in existence for about 18 months.  Our 'infrastructure' then was a newly built website, provided pro-bono by the wonderful folks at Newtek, a stack of large boxes filled with emergency blankets, socks,  antiseptic creams, and Clif Bars, a large suitcase, a whole slew of talented and compassionate fellow musicians … and me.
On a day when I had a solo or band gig, I would stand in the doorway of my storage unit and assemble about 100 packages or so, throw them in my trunk alongside a couple of guitars and amps and head over to the venue where these BTH Care Packages would be tossed out to our rock and roll audience. These folks would then distribute them to anyone on the street who looked like they could use it.
Around that time, I realized that there was only so much I could do alone. I then reached out to my associates and friends, Stacy Webb at Compass Family Services and Heather Ripley at Larkin St. Youth Services. Over the previous 18 months, along with my band, Berkeley Bronx and a host of other talented and generous musicians, I had donated money to both of their organizations.
I asked them if they could help me find someone to partner with. A non-profit organization with a similar charter.  Both of them recommended, St. Vincent de Paul Society of San Francisco and passed my name along to them.
A week or so later, I met with Shari Wooldridge, Executive Director of SVDP-SF and after talking for about 20 minutes, we realized that this could well be a match made in heaven. She took me on a tour of their new facility which was in mid-renovation, introduced me to some of her team members, Ulises Zatarain, Lisa Handley and Ariel Preciado, and we all discussed what we might be able to accomplish … together.
Jump cut to June of 2019:  In less than a year, the following things have happened:
We expanded our BTH packages to include, mylar emergency blankets, socks, winter caps, gloves, condoms, antiseptic creams and personal hygiene supplies.
The Clif Bar Company donated 1,000 Clif Bars to add to the package.
We ran a Facebook Fundraiser and raised over $8,000 in about 5 weeks!
Artist / Producer (and good friend) Scott Mickelson, decided to produce a Compilation Album (double vinyl) entitled "Blanket The Homeless." He assembled a roster of 15 artists who all donated their time and talent. All proceeds from this project will benefit the BTH organization. For the story on this, please click HERE.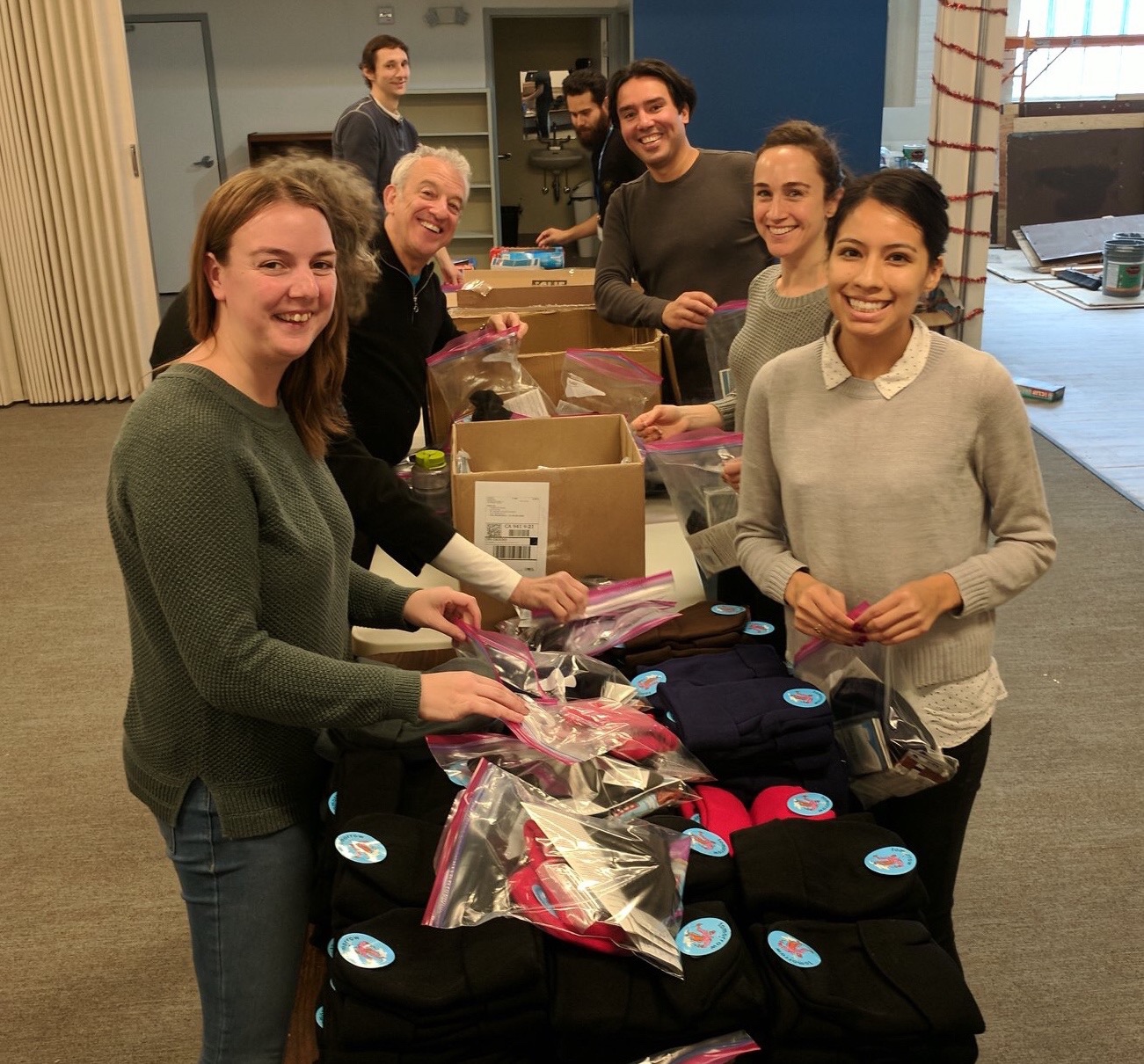 Ken Newman joins the team at Saint Vincent de Paul Society of San Francisco in assembling our Blanket The Homeless Care Packages.
Ariel Preciado of SVDP-SF took our existing Resource Guide (originally developed by my friend Carla Laser), did an enormous amount of research, added several categories of free services and offered to have SVDP handle the printing costs.
We scheduled an "Assembly Line Day" at SVDP to assemble about 1,000 packages.
The San Francisco Zen Center asked for several hundred packages so they could distribute them.
Hundreds more were distributed at rock and roll shows at The Condor Club, The Boom Boom Room, El Rio and other venues.
We were contacted by Jennifer Harrison from Freenome. They were planning to feed 500 homeless people during the holidays and wanted 500 of our BTH Resource Guides to distribute. We provided those.
I was contacted by Dawn Oberg of the Gubbio Project which allows people to sleep in Churches. We provided them with 100 mylar blankets and 20 fabric blankets.
On Monday, June 24th, I attended the first meeting of Music Communities for Change, held at Music City, San Francisco. There, surrounded by guitar amps, a PA system, and a drum kit, I met with about a dozen passionate souls and we began discussions of what kind of work we might be able to do together.
Finally, on June 27th,  staff members from St. Vincent de Paul, supported by volunteers from Etsy, made their way to the MSC – South Shelter and packed up a bunch of Blanket The Homeless kits to distribute to SVDP-SF clients.
I can honestly say that much of what we've accomplished in the last year (and what I am sure we WILL accomplish) is a direct result of the generosity and spirit that's embodied in St. Vincent de Paul Society of San Francisco.